Arthroscopic surgery with the aid of modern endoscopic tools, allows us to treat various injuries in any joint, in a minimal invasive way, followed by a short stay in the clinic and fast rehabilitation.
 When the knee is concerned, the latest evolutions are:
Improvement of the tools available for meniscal repair.
Availability of a synthetic or cadaveric whole meniscal graft for transplantation, when the entire meniscus has been removed and we want to prevent osteoarthritis.
Modern techniques for treatment of cartilage lesions – especially large ones.
Treatment of injury or instability of the patella.
Appropriate treatment of knee instability following complex injuries involving tears of the anterior cruciate ligament, the posterior cruciate ligament, the collateral ligaments, and the posterior ligamentous complex.
Improvements in the technique of fixation of the anterior cruciate ligament.
Arthroscopically assisted osteosynthesis of intra-articular fractures of the knee under direct vision.
In the shoulder the latest evolutions are:
Improvement of the ways to repair the supraspinatus muscle
Treatment of shoulder instability and tears of the glenohumeral ligaments
Decompression of the subacromial space in cases of subacromial impingement
Treatment of tendinopathy of the long head of the biceps muscle
Treatment of shoulder osteoarthritis
In the elbow the latest evolutions are on the treatment of:
Medial and lateral epicondylitis
Elbow instability and ligamentous injuries
Osteoarthritis and the presence of loose bodies
Chondral and osteochondral lesions
Arthroscopically assisted osteosynthesis of intra-articular fractures of the elbow, especially of the head of the radius, under direct vision
When the ankle is concerned, the latest evolutions are on the treatment of: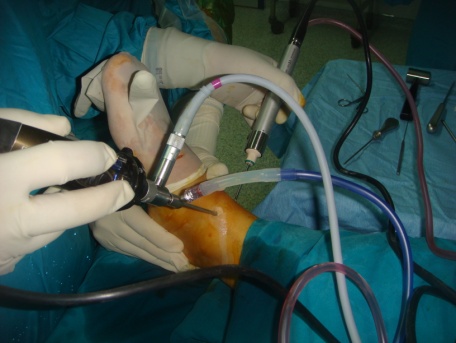 Osteoarthritic changes of the ankle joint
Chondral and osteochondral lesions
Ankle instability
Impingement syndrome
Osteochondritis dissecans and osteonecrosis of the ankle
Removal of loose bodies
Arthroscopically assisted osteosynthesis of intra-articular fractures of the distal part of the tibia, and the ankle under direct vision
In the hip the latest evolutions are on the treatment of:
Osteoarthritic changes
Chondral and osteochondral lesions
Femoral acetabular impingement syndrome (FAI)
Osteochondritis and osteonecrosis of the femoral head
Removal of loose bodies